Jack's Speaking Calendar
Thursday, April 15th, 2010 - 11:30 a.m.
Sammamish Chamber of Commerce
Jack Fecker, Keynote Speaker
Sammamish, Washington
Book Release Party!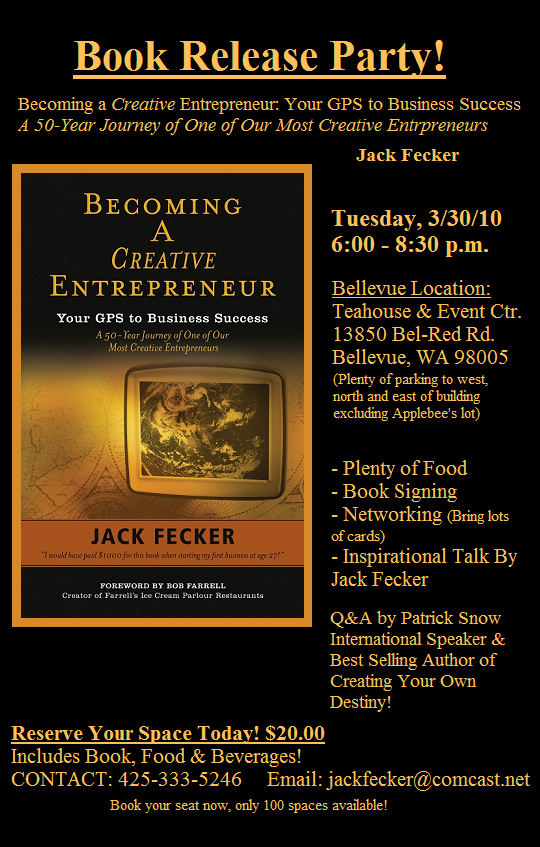 Speaking Engagements/Seminars
Consulting/Mentoring/Media Interviews
Jack Fecker is available, nationally and internationally, for professional speaking engagements, seminars, consulting, media interviews and any event sponsored by individuals, associations, corporations and organizations supporting business professionals and the entrepreneurial spirit.
Jack is also available for individual/business/corporate mentoring.
For Bookings and Availability
Contact: Jane Bakken
425.333.5246
Speaking Fees for Jack Fecker:
US and CANADA $ 10,000 USD
International $ 15,000 USD
All speaking fees are inclusive of airfaire, hotel, ground transportation, food and all other miscellaneous expenses incurred by Jack Fecker.
Fees also include pre-speech interviews with your event planner and other personnel for the purpose of customizing presentations to meet the goals and specific needs of your event. Additional savings are available if you select "Pre-Pay Options" (ask for more details when scheduling bookings).
Due to his passion to support the entrepreneurial spirit around the world, and especially during these challenging economic times, Jack Fecker wants to make every effort to be accommodating and work within the budget of your organization.
While we book most speaking engagements 3 - 24 months in advance, please don't hesitate to contact us if you need a speaker in short order, or have a cancellation you need to fill. We will do everything we can to accommodate your schedule.
Volume discounts are also available on Jack's book, Becoming A Creative Entrepreneur: Your GPS to Business Success, to be included in your conference/event amenity bags distributed to all conference attendees upon registration.